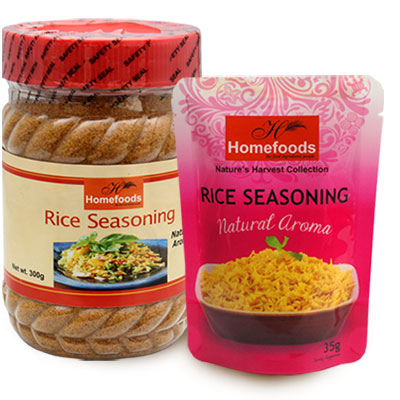 Homefoods Rice Seasoning gives you the desired taste & aroma of a perfectly blended Spicy Rice, which will enhance your taste buds. 
HOMEFOODS attention and creativity on food ingredients over the years sought to uncover the role of great food in your life.
Our journey of discovery is far from over and yet we know that simple additions can transform your meals from good to great.
The jars come in 600g, 300g, 160g and sachets come in 15g, 35g and 50g.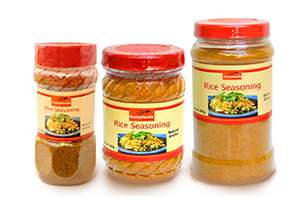 Suggested Rice Recipe (4 Persons)

Ready in 15 Minutes


Quantity / Ingredients
900 ML     Boiled Water
500 Grams  Rice
125 Grams  Homefood Vegetable Oil
100 Grams  Chopped Onion
15 Grams   Homefoods Rice Seasoning

Process Method :

For best results,

1. Fry Rice Seasoning briefly in preheated Oil.
2. Wash Rice with boiled water, set aside.
3. Add the boiled water and cleaned rice.
4. Allow the mixture to cook untill water is completely absorbed.
5. Add chopped Onions and other desired vegetables and stir.
6. Allow the rice to cook untill done.

The secret:
* Using boiled water reduces time spent in cooking by 20 mins.
* Use chopped onion at the final stage.