Ernst & Young Awards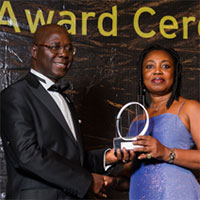 In November 2014, the CEO of Homefoods was nominated as Finalist at Ernst & Young Entrepreneur of the Year, West Africa. The award ceremony was held in EKO Hotel, Lagos, Nigeria.
Some of her mates from Harvard Business School, Boston USA attended the ceremony to support and celebrate with her.
"Felicia, we are proud of you for your achievement. Being the ONLY African Woman in class during our years in HBS, we are not surprised of this achievement". -Abiola, Charles and Annie.