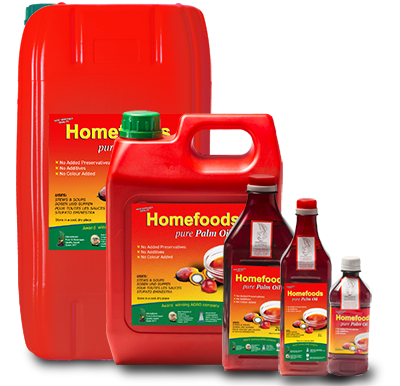 Palm oil has been the flagship product of the company since 1995. It has been the bane of our SUCCESS!
It is a versatile plant ; Nature's gift to the world!  Palm oil is derived from the flesh of the palm tree. In its virgin form, the oil is bright orange-red due to its high content of carotene.
Palm oil is rich in Vitamin E, a powerful anti-oxidant capable of reducing the harmful types of oxygen molecules in the body. Palm oil is semi-solid at room temperature.
Palm oil has good resistance to oxidation and heat at prolonged elevated temperatures; hence making palm oil an ideal ingredient for frying and other oil blends. Products fried in palm oil include potato chips, French fries ,noodles and nuts.
Currently, this product is packaged in 500ml, 1lt and 2lt. However, packaging and branding is based on customer preference.
" MAKING EVERY MEAL AN EXPERIENCE "