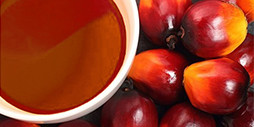 Red Palm Oil has a wide variety of health and nutritional benefits distinctively with more anti-oxidant benefits than all other oils combined, including Olive Oil and other oils.
Two of the biggest Health & Nutritional benefits of Red Palm Oil are its abundance of:
Carotenoids Extremely powerful Anti-Oxidant nutrients that helps strengthen the body's immune system. Carotene is the most active and important form of Carotenoids found in Red Palm Oil.

Red Palm Oil is nature's richest source of Carotenoids which contains 15x more Carotenoids than carrots & 30x more than Tomatoes.


Tocotrienols: Another form of Vitamin E with significant Cardio protective properties. Tocotrienols help improve Blood flow to the Brain and are very effective in killing cancer cells.
Red Palm Oil is one of nature's richest source of Tocotrienols.
Using Red Palm Oil as part of a balanced diet can have significant benefits for the heart by keeping the arteries open.
NB: Plaque from saturated fats such as butter or other oils tend to build up on the inside of arteries causing the blocking of Blood flow.
On the other hand, Red Palm Oil already in a semi solid state at room temperature once inside the warm temperature of the body turns into liquid form and actually reduces the buildup of artery clogging Plaques.
Substituting other fats and oils for Red Palm Oil significantly reduces bad cholesterol.
Only 2 tablespoons full of Red Palm Oil a day are needed to benefit from the positive effects…