A custom culinary formulated blend of different selected spices makes this unique flavour seasoning peculiar to Homefoods.
Combining all  palettes  from Gambia through Ghana to Nigeria, this Jollof Seasoning is incomparable to any food seasoning on the market inspired by Grandma's secret recipe in a traditional kitchen in Ghana.
Research and Development started in 2009, perfected and re-engineered in 2012 in a certified ISO lab.   
The jars come in 600g, 300g, 160g and sachets come in 15g, 35g and 50g.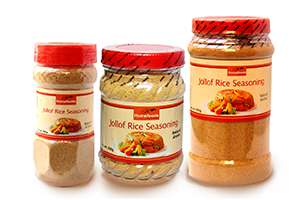 Suggested Rice Recipe (4 Persons)

Ready in 15 Minutes


Quantity    Ingredients
900 ML       Boiled Water
500 Grams   Rice
125 ML        Homefoods Vegetable Oil
100 Grams   fresh tomato or 2 tomatoes
100 Grams   Chopped Onion
 35 Grams    Homefoods Jollof Rice Seasoning
 25 Grams    Tomato Puree


Method of Preparation :

1. Mill the fresh tomato and tomato puree together to obtain paste.
2. Pour Oil in to saucepan and add tomato paste.
3. Cook under moderate heat whilst stirring.
4. Fry until oil appears red.
5. Add Kpakpo shito.
6. Add Jollof Rice seasoning and add boiled water immediately.
7. Wash rice with boiled water and add to gravy.
8. Bring rice to boil.
9. As rice gently cooks, add chopped onions.

The Secret:
* Using boiled water reduces time spent in cooking by 20 mins.
* Use chopped onion at the final stage.