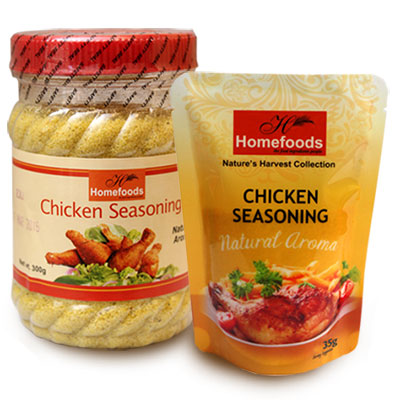 Chicken Seasoning gives you a mouth watering flavour and aroma. Homefoods incorporates flavours from all over the world to give this peculiar authentic taste.  When you think about chicken dishes, Homefoods Chicken Seasoning is what should come to mind.  It is full of flavour. 
The jars come in 600g, 300g, 160g and sachets come in 15g, 35g and 50g.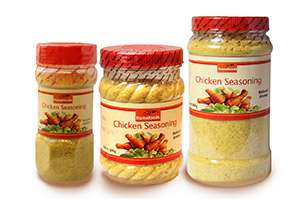 Quantity      Ingredient
1000 Grams   Chopped Chicken
  200 ML       Water
  125 ML       Homefoods Vegetable Oil
  100 Grams   Onion, Homefoods Tomato Paste
      5 Grams  Homefoods Chicken Seasoning
Method of Preparation :
For optimum results,
1. Marinate 1000 Grams Chicken with 5 Grams of Homefoods chicken seasoning overnight or marinate and set aside for ten (10) minutes.
2. Add 200 ML water to steam and cook for five (5) minutes.
3. Add salt to taste.
4. Take steamed chicken out of the stock and fry with 125 ML of homefoods Vegetable Oil till desired brownish state. Set aside.
5. Fry Onions, add Homefoods tomato paste and fresh tomato.
6. Add 2 tablespoons Kpakpo shito / Chilli pepper.
7. Add stock, leave to simmer for 10 minutes and your gravy is ready.
8. Serve with any desired dish.