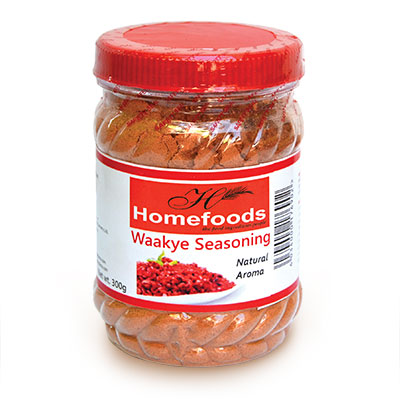 A blend of different selected indigenous spices is used to impact a reddish colour and flavour.
Preparation is made easily with Homefoods Waakye Seasoning without usage of Sorghum leaves.
Enjoy our Spicy and delish traditional Waakye Seasoning made for your convenience and suitability.
The jars come in 600g, 300g and 160g.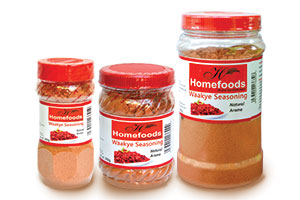 Quantity      Ingredients
3000 Grams  Water
 120 grams   Homefoods Waakye Seasoning
 120 Grams   Rice Raw
  80 Grams    Beans


Method of Preparation:

1. Soak Beans for approximately 3hrs/ overnight.
2. Wash beans and cook for 10 minutes.
3. Add 60 grams (3 tablespoonful) of your Homefoods Waakye Seasoning to the cooked beans and stir for uniformity.
4. Wash your rice with warm water and add rice to the beans.
5. Add additional 60 grams (3 tablespoonful) to step 4.
6. Stir for uniformity and cook to desired texture for approximately 10 mins.
7. Add spaghetti, gari foto as accompaniment with your desired meat/fish gravy.
8. Serve it.