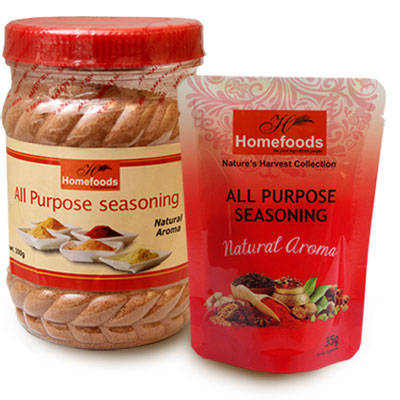 A blend of quality and nature's finest ingredients has been used for the Homefoods All Purpose Seasoning.  It stimulates taste and can be used for all meats, fish, poultry, vegetable, soups, gravies etc.
The jars come in 600g, 300g, 160g and sachets come in 15g, 35g and 50g.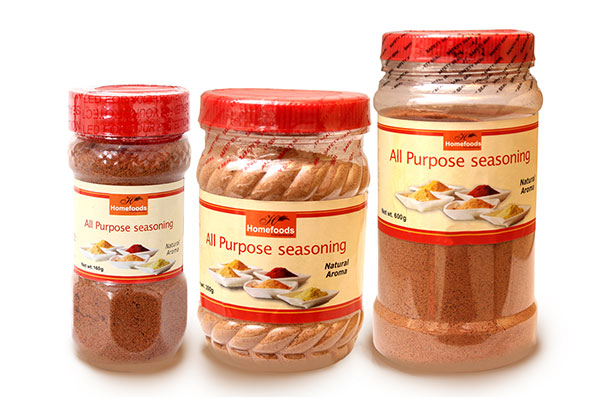 Suggested Meat Stew Recipe (4 Persons)

Ready in 20 minutes
Quantity                 Ingredient 
5 Grams                   Homefoods All Purpose Seasoning
125 ML                    Homefoods Vegetable Oil
1000 Grams              Boneless Meat
100 Grams                Chopped Onions, Fresh tomatoes
5 Grams                    Homefoods Tomato paste,
100 ML                     Water
2 table spoons           Kpakpo shito (Chilli Pepper) puree

Method of preparation :
For optimum results,
1. Marinate 1 Kg meat with Homefoods All Purpose Seasoning overnight.
2. Or marinate same day and set aside for 10 minutes.
3. Add 200 ML of water to steam then take meat out when tender.
4. Toss meats in hot Homefoods vegetable oil, remove whenbrown and set aside.
5. Add blended fresh tomatoes and 5 grams tomato paste to oil and stir till oil is red.
6. Add 5 grams of All Purpose Seasoning to stew and stir briefly.
7. Add 2 spoons of kpakpo shito (Chilli) puree.
8. Add meat stock and leave to simmer for 5 minutes.
9. Add your prepared meat and chopped onions.
10. You may eat stew with rice, cooked or fried yam.