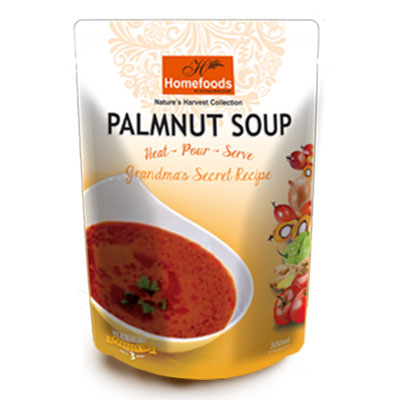 Guess what is in the pouch! An innovation microwavable Ready to Eat Palm Soup (Abenkwan/Banga). 
Our characteristic yummy Palmnut Soup is carefully prepared, presenting consumers with safe and premium mouthwatering soup which goes with almost any accompaniment.
Our journey of discovery is far from over. We strive to make every meal the Homefoods way. Now with the Homefoods way - 'Making  every meal an experience', your special Palmnut Soup can be enjoyed every day, especially for lactating mothers with its natural way of enhancing breast milk formulation.
It also contains Vit. A, Minerals and Natural Oils. This makes it an excellent choice for the family. What else can you ask for?
Get a pouch of our Ready To Eat Palmnut Soup and Enjoy!
" Heat ~ Pour ~ Serve "