Palm Oil Health & Nutrition
Homefoods Seasonings
Marinate 1 steak in 2 tablespoons vegetable oil, 1 tablespoon chili powder, then juice of 2 limes, 4 minced garlic cloves, 4 tablespoon spoons of Homefoods Afric grill seasoning, 1 teaspoon salt and 1 sliced onion in the refrigerator, 2 to 4 hours.
Grill on oiled grates over medium-high heat along with the sliced onion, 2 to 5 minutes per side, depending on the thickness, for medium rare.
Let rest 5 minutes; slice on the diagonal
METHOD OF PREPARATION
• Place chicken strips into a large, resealable plastic bag. 
• In a small bowl, mix the egg, buttermilk and garlic powder.
• Pour mixture into bag with chicken. 
• Seal, and refrigerate 2-4 hours. 
• In another large, resealable plastic bag, mix together the flour, bread crumbs, salt and baking powder. Remove chicken from refrigerator, and drain, discarding buttermilk mixture. 
• Place chicken in flour mixture bag. 
• Seal, and shake to coat.
• Heat oil in a large, heavy skillet to 375 degrees F (190 degrees C).
• Carefully place coated chicken in hot oil. 
• Fry until golden brown and juices run clear.
• Drain on paper towels. 
Homefoods Fried Rice Seasoning is typically made with different selected spices to enhance your taste buds.

Prepare your Fried Rice with Homefoods Fried Rice Seasoning to give you a delicious taste and aroma.

The jars come in 600g, 300g, 160g and sachets come in 15g, 35g and 50g

" Taste it, Love it and enjoy it"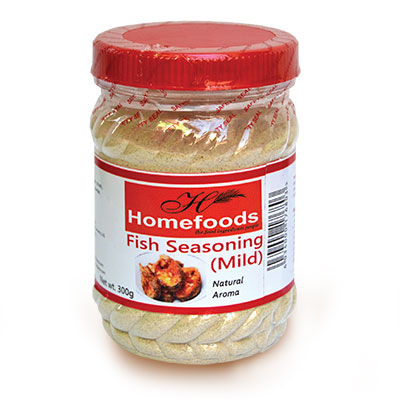 Homefoods sources the highest quality ingredients from far-reaching destinations to bring a world of Mild flavoured Fish Seasoning to your table.

Use our Mild Fish Seasoning to transform any savoury dish from ordinary to delectable.  
The jars come in 600g, 300g and 160g.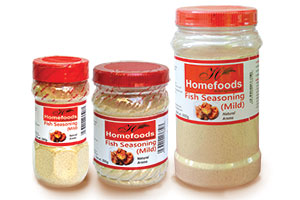 Method of Preparation:

1. Make 3-4 diagonal cuts in each side of the fish, all the way right through the bone and rub it with 1 tbs of Homefoods Fish Seasoning for a great flavour.
2. Chop parsley, onion, garlic, ginger and tomato and gently flip them back and forth until coated inside and out.
3. Squeeze a Lemon or sprinkle on it, Homefoods, Lemon, Pepper and Coconut Seasoning and wrap with aluminium foil.
4. Let it marinate in the fridge for up to 24 hours.
5. Cook as desired, oven grill, open BBQ or fry.